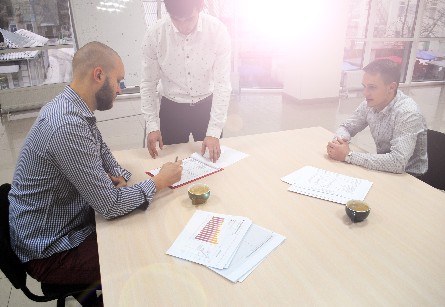 I'm sure you've heard the stats that employers will spend an average of 10 seconds reviewing your CV before deciding whether to accept or reject it for a role. More importantly many of these processes are being automated before a human eye even sees your CV via an ATS system. It can all sound a little depressing, but remember, your CV is often your first introduction to an employer and while personalising and crafting your CV can be time consuming, the pay offs can be big if you secure your dream job. So think more of it as an investment.
We have 23 years experience in recruitment, and in that time have built up a wealth of knowledge with regards to candidates, CV's, hiring practives and of course HR and Hiring Managers.
Below we are going to go through our tips on writing a CV that will get you interviews.
What's your plan?
Before you even start to craft your C.V. take the time to sit down and work out what your aim is for applying for a new role. What job are you looking for and who is going to be reading your CV. Once you have this you can lay the content out around this. Always remember to focus on the employers point of view. The main aim is to sell yourself as a person and clearly hightlight your skills and experience.
List Your Achievements
Write down absolutely every acheivement you can think of whether it's work related or personal on a sheet. This will then give you a range of achievements to choose from when it comes to crafting your CV.
If you like you can categorise these under education, work, and community/charity
Think and write down your unique selling points, what makes you as a person a stand out candidate. If needs be take the time to ask your friends, family and if it's possible co-workers.
No C.V. application should be the same. Every company is looking for something different in their hiring process, make sure you take the time to research the company, their employees and look on LinkedIn to get a feel for the culture of the company. This will allow you to more effectively tailor your C.V. towards the company and role in question.
Make sure you know the hiring process
Who will screen your CV initially. Will it be an automated ATS system (you can read more about this system here) or is it the HR department. Knowing this will also allow you to ensure you are tailoring the C.V. accordingly.
It is is an online ATS system ensure you use the keywords mentioned in the job description and have clearly stated your skills in line with their requirements.
If it is HR or even better the hiring manager direct, again be sure to echo the language and skills in their job description, but an added bonus would be if you researched the people in the area you may be working in. This would allow you to customise your C.V. even further.
Things to keep in mind:
Give clear and concise reasons for leaving - This can be brief, but it will give an indication to your potential employer of what drives you
Remove irrelevant experience – Keep your CV as concise as possible to the employer doesn't have to go hunting to find the relevant experience (remember you only have literally seconds to make an impression with your C.V.)
Detail a new skill or experience in each of your jobs – often the skill set may be similar, so this allows you to showcase your continued knowledge and growth as an employee
Stick to the truth – remember, your hiring manager is going to have the knowledge to know when you're bluffing and if you're caught out for one thing, it will taint the rest of your interview and the trust the hiring manager has in your CV
Be sure to give quantifiable data instead of "Worked on a large successful social media project that won an award" Be clear in what your role was "Designed a social media campaign that ran for 3 weeks and increased our customer base by 8% leading to an increase in sales/signups of x amount"
Be sure to use assertive language – increase, decrease, implement, product, report, create, support, develop.
Make your cover letter personal to the role you are applying for – show the specific interest you have in this role and why you want to work there.
Emphasize results first then skills – rather than "Ran the Facebook and Twitter accounts for the company" – try saying "Increased out Facebook reach by 60% and social media e-commerce conversion rate by 10%"
To keep it concise you can always add links to places they can find out more about you: LinkedIn, Twitter, Your own personal website (if you have one) – as long as it's appropriate to your specific industry
Most of all try and remember to highlight what you can achieve for that company, as at the end of the day, that's the main driver for many hiring managers.
Want to know more?
Does Your Online Presence Make The Grade?
5 Ted Talks To Re-Invigorate Your Job Search