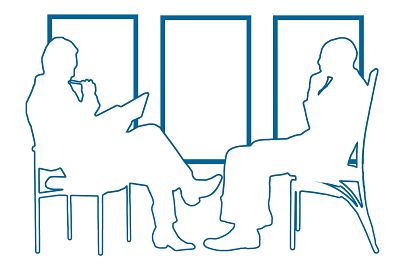 You've worked hard crafting your cv and now you've been invited to a first round interview – great news! That excitement for many can soon turn in to the dreaded pre-interview nerves as the interview date approaches.
If this is you, then you're not alone. According to a US study, over 92% of adults are anxious about job interviews with 2 of the most common interview fears being; not knowing the answer to the interviewers question and being late for the interview. For some people the thought of having to deal with the interview process stops them from even taking steps to leave their current role.
The thing to remember is that the person interviewing you is human, and has been through the recruitment process themselves, so they'll be aware of how daunting the interview process can be for a candidate. Remember, if you're not successful in an interview, try and use that experience to help you for the next time and wherever possible try and garner feedback from the interviewer to gain insight in to where you may need to bolster your skill set.
Here are our top tips to help you banish those pre-interview nerves:
The night before:
It's very easy to fall in to the trap of staying up late to ensure you've researched all you can about the prospective company, role and interview pancel, but this can often cause you to be tired and stressed come the morning. Be sure to keep your evening calm and stress free. Don't pile too many activities in to the evening and ensure you get a good night's sleep (at least 8 hours).
The day of the interview:
Be sure to have a good breakfast and lunch (dependant on your interview time), skipping these can cause your sugar levels to drop and even worse a grumbling tummy during the interview. You don't want to be pre-occupied with trying to stop your stomach from grumbling instead on concentrating on the interviewers questions. If possible try and fit in a little exercise on the day, this will give you that little burst of energy and get the endorphins going. Try and eat a Banana just before you arrive at the interview. Supposedly, some combination of tryptophan, potassium, and beta-blockers found naturally in bananas calms shaky nerves. There's some debate over how true this is, even the placebo effect of thinking a banana will calm you down will help.
Arriving and waiting at the interview:
Often this is when the nerves really kick In. You start to think that you've forgotten all the key information about the company or that really important person's name. There's a few things you can do to alleviate this stress. Try and do a test run to the interview location prior to the interview so you know where you're going and roughly how long it will take you to get there. The last thing you want is to arrive hot and flustered or even worse late. Do a power pose for 2 minutes prior to your interview. Positions your body in a stance of power impacts the way you behave and you'll find yourself more calm and charismatic. Watch this video for some of Professor Amy Cuddy's sample power poses.
After the interview:
This is the time to assess how the interview went, and note any crucial points that you weren't able to make during the interview. It's also the time to give yourself a pat on the back for completing the interview – remember an interview is as much about the company deciding if you would be a fit for them as you deciding if they are a fit for you.
Last but not least, remember to send a follow up "Thank You" e-mail. This is an opportunity for you to re-iterate why you would be a fit for the job, put in 1 or 2 points you mightn't have got across on the interview and of course thank the interviewer/company for taking the time to interview you.
While a thank-you email may or may not make a difference, it's still a good idea to send one. Many recruiters and hiring managers say they don't care about thank-you notes anymore and don't pay attention to them, but never know if the person that you're interviewing with does care, so it's best to send the note. For those hiring managers that do care, they are judging your passion for the job based on whether you send a note and what you say in it. You can read more on formulating the ideal Thank You note in this informative article by Amy Seglin.
Have you read our top TED talks for invigorating your job search?
See All Our Current Vacancies and Job Seeker Tips In Our Jobseeker Section